Photograph taken in John's home studio by Ralph Hodgson

Thank You to
Balance (Diabetes UK)
for letting us use the photograph.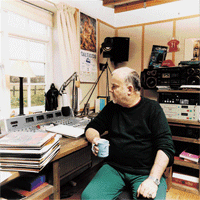 John Peel (1939~ 2004)

John Peel was a Broadcasting legend, a one off & a great friend.
John has been visiting us at Reddingtons Records since the 70's & was in the shop as recently as 6 months ago with his lads.
A very funny & humorous person & we would often be in stitches, especially when John talked about his beloved Liverpool Football Club, Bill Shankly & Kenny Dalgleish.

No doubt he'll always be playing his records up there on his
'Trusty Ole Turn Table'.

Our condolences go to Sheila & family.

The Greatest & Irreplaceable John Peel ~ You will be truly missed.
Dan Reddington.